The BFD series has a cast iron body, 316 S.S disc, EPDM seat and an electric actuator making it suited to a wide range of industrial applications. These wafer butterfly valves will fit all standard flanges and are operated by a high quality IP67 electric actuator (available in all voltages). The unique bonded catridge design of the butterfly valve gives it a longer life span, allows vacuum to be run through it and enables the seat to be replaceable if ever the need should arise. Common applications include water trucks, irrigation, cement hoppers, irrigation and other industrial applications. If sizes above 600mm are required please contact us.
*Voltages available; 12vDC, 24vDC, 24vAC, 110vAC, 240vAC, 415vAC.
For sizes over 600mm or different seat material please contact us.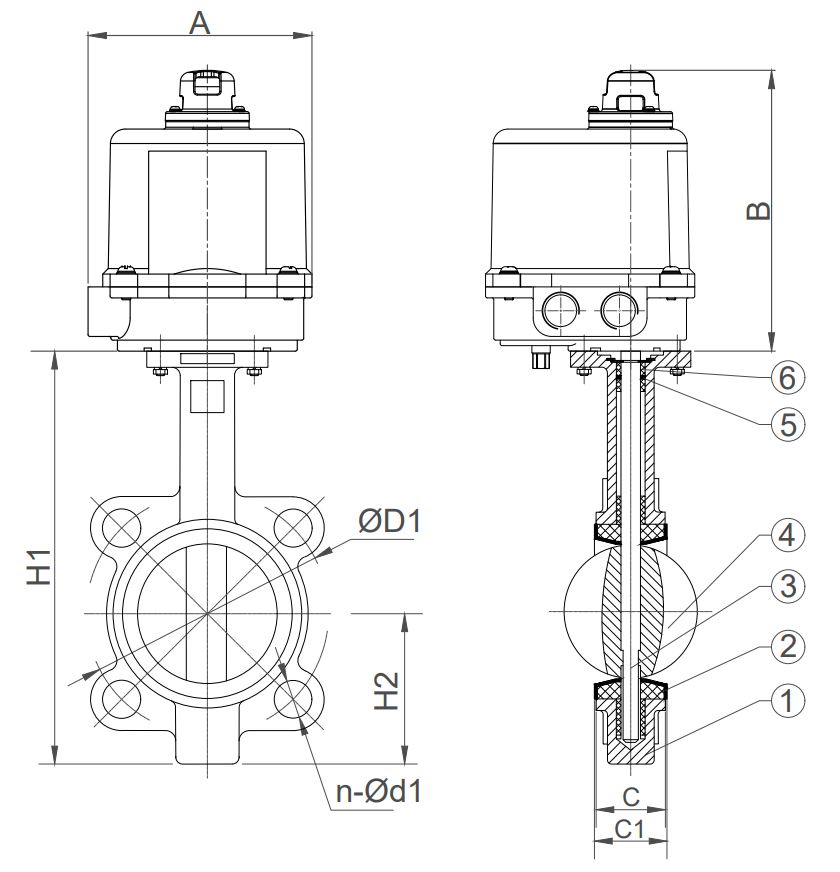 Model
DN
Actuator
A
B
C
C1
H1
H2
AS2129 Table D
AS2129 Table E
ANSI150
ØD1
n-Ød1
ØD1
n-Ød1
ØD1
n-Ød1
BFD50-E*-E
50
0M-1
108
155
42
46.1
225
70
114
4-18
114
4-18
120.5
4-19
BFD65-E*-E
65
0M-1
108
155
44.7
49.1
245
77
127
4-18
127
4-18
139.5
4-19
BFD80-E*-E
80
0M-1
108
155
45.2
48.4
261
87
146
4-18
146
4-18
152.5
4-19
BFD100-E*-E
100
0M-A
108
200
52.1
55.3
305
112
178
4-18
178
4(8)-18
190.5
4(8)-19
BFD125-E*-E
125
0M-A
108
200
54.4
58.8
332
128
210
4(8)-18
210
4(8)-18
216
4(8)-22
BFD150-E*-E
150
0M-2
200
290
55.8
59.1
361
143
235
4(8)-18
235
4(8)-22
241.5
4(8)-22
BFD200-E*-E
200
0M-3
200
290
60.6
64.1
423
173
292
4(8)-18
292
4(8)-22
298.5
4(8)-22
BFD250-E*-E
250
0M-4
234
315
65.6
71.8
499
210
356
4(8)-22
356
4(12)-22
362
4(12)-25
BFD300-E*-E
300
0M-5
234
315
76.9
81
578
244
406
4(12)-22
406
4(12)-26
432
4(12)-25
BFD350-E*-E
350
0M-6
234
315
76.5
79.5
635
267
470
4(12)-26
470
4(12)-26
476
4(12)-29
BFD400-E*-E
400
0M-7
234
420
86.5
90
697
297
521
4(12)-26
521
4(12)-26
539.5
4(16)-29
BFD450-E*-E
450
0M-8
260
590
105.6
109
737
315
584
4(12)-26
584
4(12)-26
578
4(16)-32
BFD500-E*-E
500
0M-9
260
590
131.8
135
840
360
641
4(16)-26
641
4(16)-26
635
4(20)-32
BFD600-E*-E
600
0M-11
260
590
152
156
1006
444
756
4(16)-30
756
4(16)-33
749.5
4(20)-35
All dimensions in mm unless specified otherwise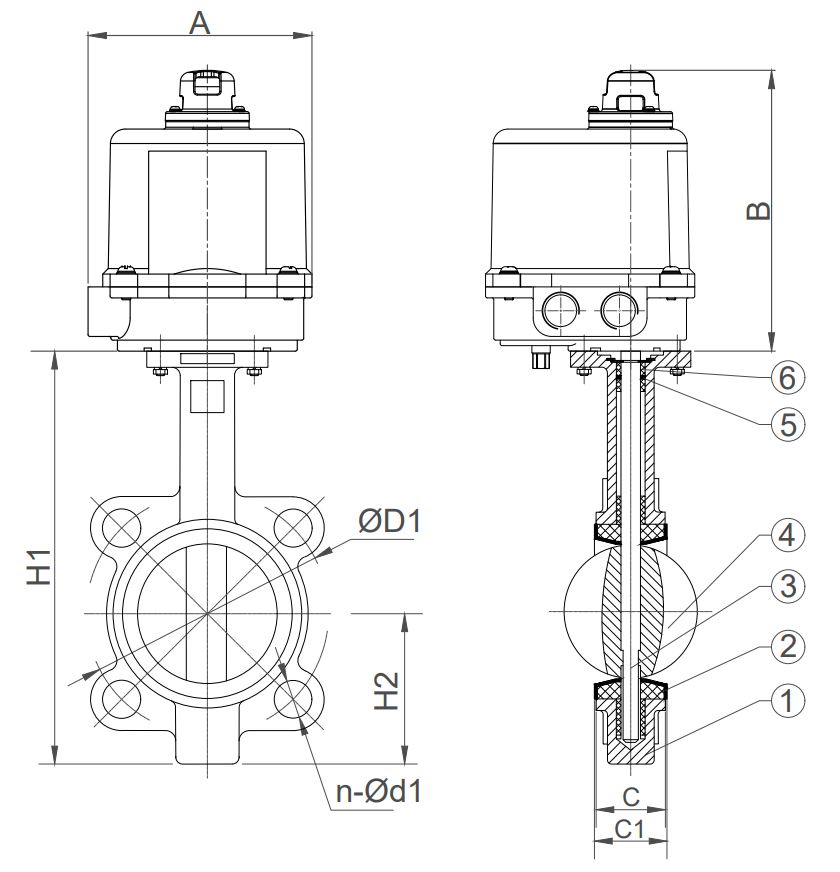 | Item | Description | Material |
| --- | --- | --- |
| 1 | Body | Ductile Iron (Fusion Bonded Epoxy Coated) |
| 2 | Seat | EPDM |
| 3 | Shaft | SS431 |
| 4 | Disc | CF8M |
| 5 | Bushing | PTFE |
| 6 | O Ring | NBR |
| | Electric Actuator | Powder Coated Aluminium |
Size 50mm to 600mm
Body FBE coated Cast Iron
Seat EPDM
Disc 316 Stainless Steel
Pressure Up to 16 BAR (depending upon size)
Actuation Electric
Product History