Flanged V port Stainless Steel Ball Valve
SKU: BLVF
$258.50
Inc GST
Sold Out - Backorder Available
Two piece two way ANSI 150 lb flanged 60 degree V port ball valve, lockable lever operation. 316 Stainless Steel body, Graphite Filled PTFE seats, FKM backing ring, live loaded packing and anti static device. ISO5211 Mounting Pad allowing direct coupling of actuation. Great for flow control applications especially when coupled with a modulating actuator or positioner. For steam or higher wear applications we recommend changing to a 50/50 stainless steel seat as it is exposed for long durations with V port balls.
Design & Manufacture to ANSI B16.34
Face to Face comply with ANSI B16.10
Flange Ends comply with ANSI B16.5
Inspection & Testing in accordance wtih API598
For flow rate information please see our references here.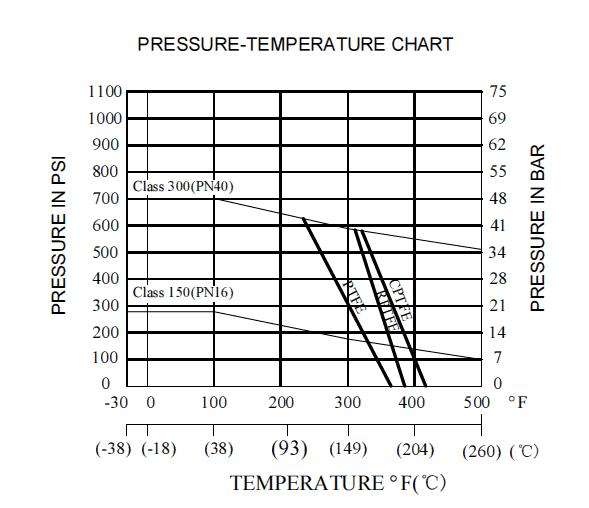 50mm to 100mm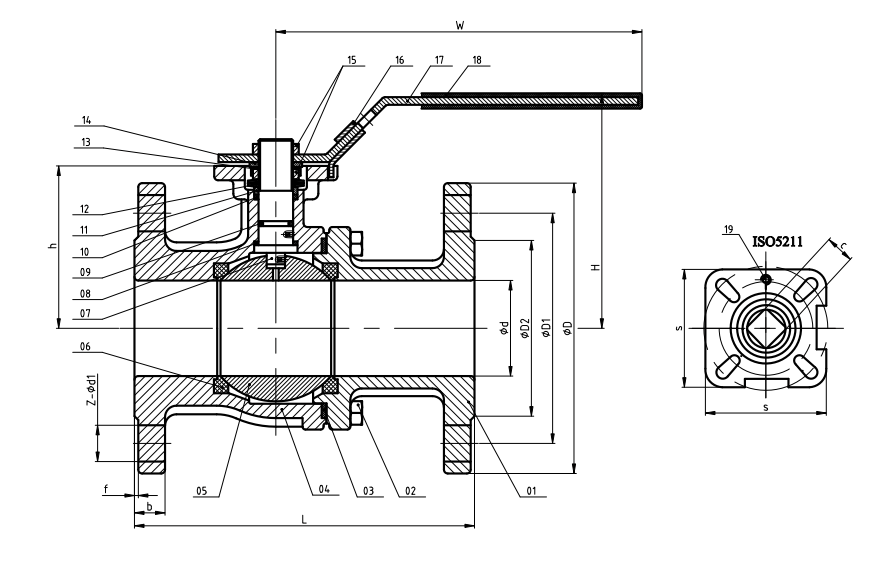 | Size | d | L | D | D1 | D2 | b | f | H | W | C | ISO5211 | Z-Ød1 | h | s | Kgs |
| --- | --- | --- | --- | --- | --- | --- | --- | --- | --- | --- | --- | --- | --- | --- | --- |
| 1/2" | 15 | 108 | 89 | 60.5 | 35 | 11 | 2 | 82 | 117 | 9 | F03/F04 | 4-15 | 48 | 42.6 | 1.48 |
| 3/4" | 20 | 117 | 98 | 70 | 43 | 11 | 2 | 87 | 117 | 9 | F03/F04 | 4-15 | 53 | 42.6 | 2.04 |
| 1" | 25 | 127 | 108 | 79.5 | 51 | 12 | 2 | 90 | 164 | 11 | F04/F05 | 4-15 | 58.5 | 50 | 2.86 |
| 1-1/4" | 32 | 140 | 117 | 89 | 64 | 13 | 2 | 100 | 164 | 11 | F04/F05 | 4-15 | 71 | 50 | 3.94 |
| 1-1/2" | 40 | 165 | 127 | 98.5 | 73 | 15 | 2 | 116 | 203 | 14 | F05/F07 | 4-15 | 76.5 | 64.5 | 5.94 |
| 2" | 50 | 178 | 152 | 120.5 | 92 | 16 | 2 | 125 | 203 | 14 | F05/F07 | 4-19 | 85 | 64.5 | 7.61 |
| 2-1/2" | 65 | 190 | 178 | 139.5 | 105 | 18 | 2 | 164 | 255 | 17 | F07/F10 | 4-19 | 110 | 93.6 | 13.2 |
| 3" | 80 | 203 | 190 | 152.5 | 127 | 19 | 2 | 174 | 255 | 17 | F07/F10 | 4-19 | 122.5 | 93.6 | 17.1 |
| 4" | 100 | 229 | 229 | 190.5 | 157 | 24 | 2 | 200 | 302 | 17 | F07/F10 | 8-19 | 145.5 | 93.6 | 29.2 |
| 5" | 125 | 356 | 254 | 216 | 186 | 24 | 2 | 258 | 600 | 22 | F10/F12 | 8-18 | 185 | 114 | 42 |
| 6" | 150 | 394 | 279 | 241.5 | 216 | 26 | 2 | 276 | 600 | 22 | F10/F12 | 8-22 | 202.5 | 114 | 82 |
| 8" | 200 | 457 | 343 | 298.5 | 270 | 29 | 2 | 350 | 800 | 27 | F12/F14 | 8-22 | 257 | 131 | 140 |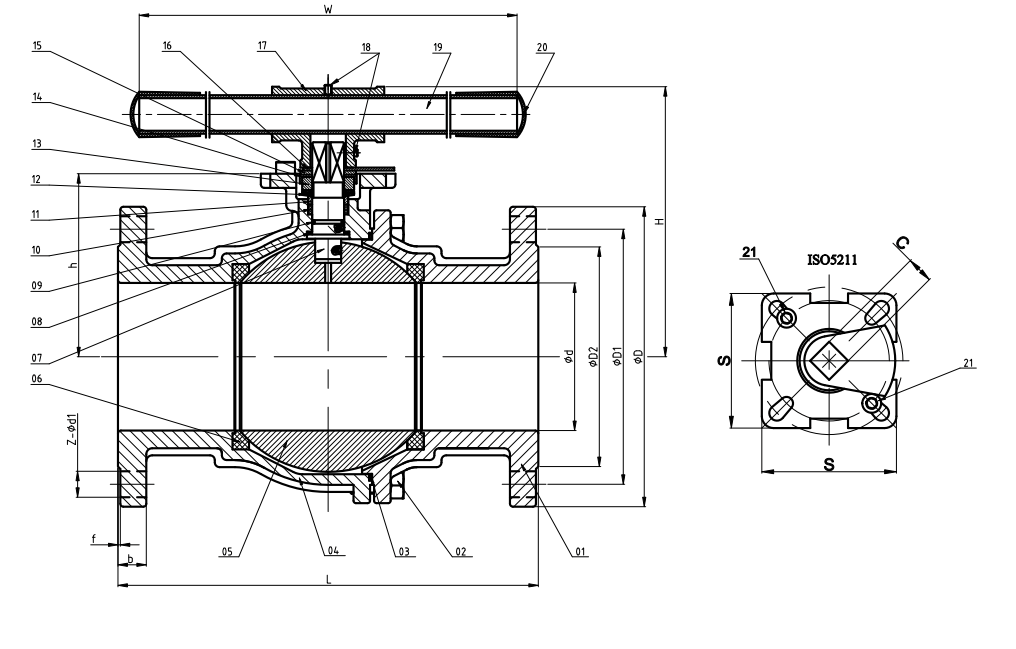 50mm to 100mm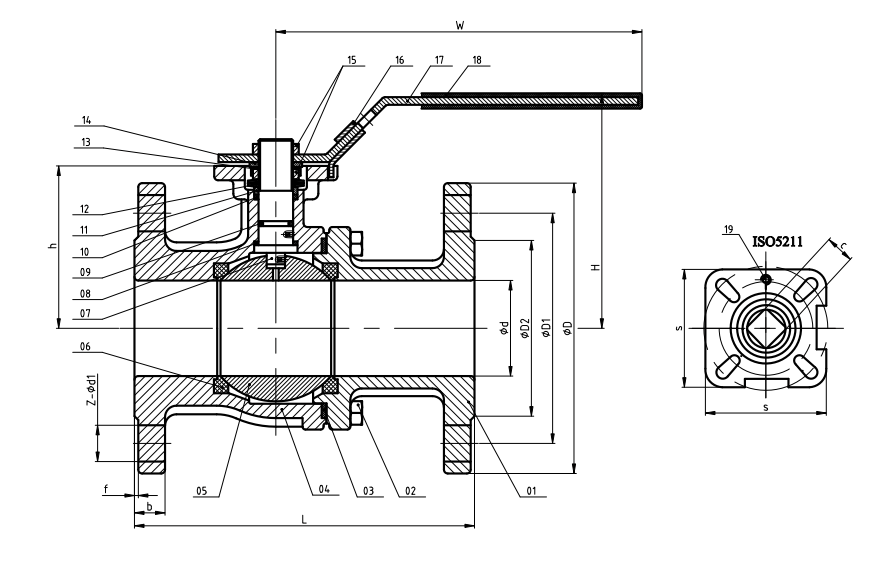 | Item | Part | Material | Qty |
| --- | --- | --- | --- |
| 1 | Cap | 1.4408 (CF8M) | 1 |
| 2 | Bolt | SS304 | 4(8) |
| 3 | Body Gasket | Pure Graphite | 1 |
| 4 | Body | 1.4408 (CF8M) | 1 |
| 5 | Ball | SS316 | 1 |
| 6 | Ball Seat | Pure PTFE | 2 |
| 7 | Stem | SS316 | 1 |
| 8 | Thrust Washer | Pure PTFE | 1 |
| 9 | O-ring | Viton | 1 |
| 10 | Stem Packing | Pure Graphite | 1 |
| 11 | Packing Ring | SS304 | 1 |
| 12 | Bellevlle Washer | SS301 | 2 |
| 13 | Nut Stopper | SS304 | 1 |
| 14 | Plate Washer | SS304 | 1 |
| 15 | Nut | SS304 | 2 |
| 16 | Lock Device | SS304 | 1 |
| 17 | Handle | SS304 | 1 |
| 18 | Plastic Cover | Plastic | 1 |
| 19 | Stop Pin | SS304 | 1 |
125mm to 200mm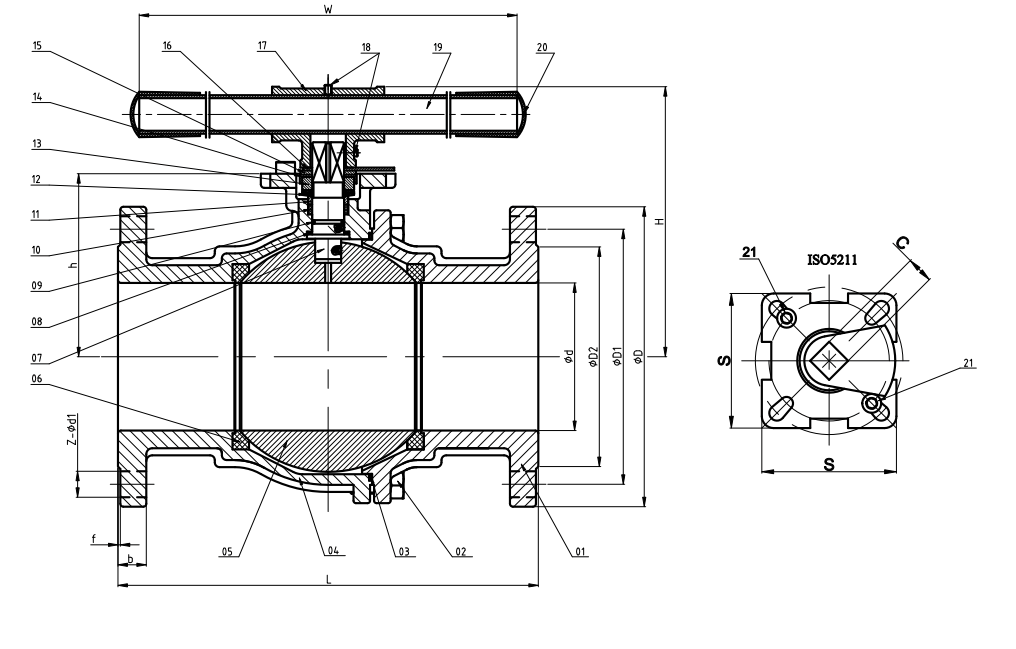 | Item | Part | Material | Qty |
| --- | --- | --- | --- |
| 1 | Cap | 1.4408 (CF8M) | 1 |
| 2 | Bolt | SS304 | 8 |
| 3 | Body Gasket | Pure Graphite | 1 |
| 4 | Body | 1.4408 (CF8M) | 1 |
| 5 | Ball | SS316 | 1 |
| 6 | Ball Seat | Pure PTFE | 2 |
| 7 | Stem | SS316 | 1 |
| 8 | Thrust Washer | Pure PTFE | 1 |
| 9 | O-ring | Viton | 1 |
| 10 | Stem Packing | Pure Graphite | 1 |
| 11 | Packing Ring | SS304 | 1 |
| 12 | Bellevlle Washer | SS301 | 2 |
| 13 | Nut | SS304 | 1 |
| 14 | Nut Stopper | SS304 | 1 |
| 15 | Plate Washer | SS304 | 1 |
| 16 | Lock Device | SS304 | 1 |
| 17 | Sleeve | CF8M | 1 |
| 18 | Jackscrew | SS304 | 2 |
| 19 | Handle | Galvanized Pipe | 1 |
| 20 | Plastic Cover | Plastic | 1 |
| 21 | Stop Pin | SS304 | 2 |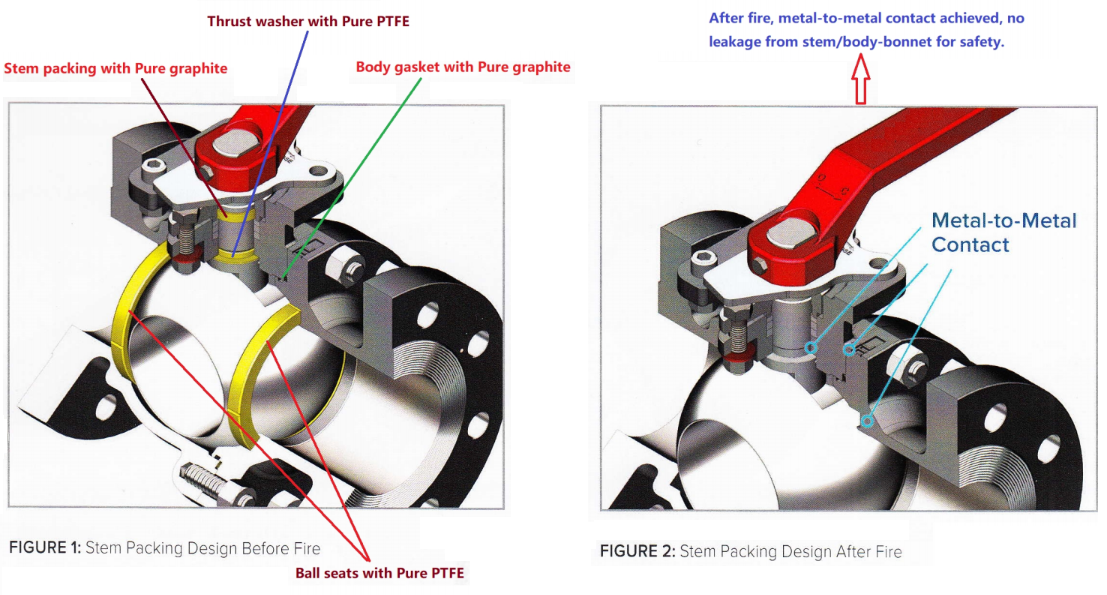 Size 20mm to 100mm
Body 316 Stainless Steel 2 piece 60 degree V port
Seat PTFE
Pressure 20 BAR
Temperature -20°C to 180°C
Actuation Lockable Lever
Product History