Series BLSHP high performance 316 stainless steel ball valves are specifically designed for high pressure applications. Delrin seats enable pressures up to 204 BAR or 3000 psi at 38°C. Comes with spring return (fail open or fail closed) anodised aluminium pneumatic actuator with visual indicator. Typical applications include water blasting, chemical injection, boiler feedwater and agricultural spraying. Threads conform to ISO 7.1 Sealing Threads.
For Sprung Open the '5' in the product code changes to a '6'.
All dimensions in mm unless shown otherwise.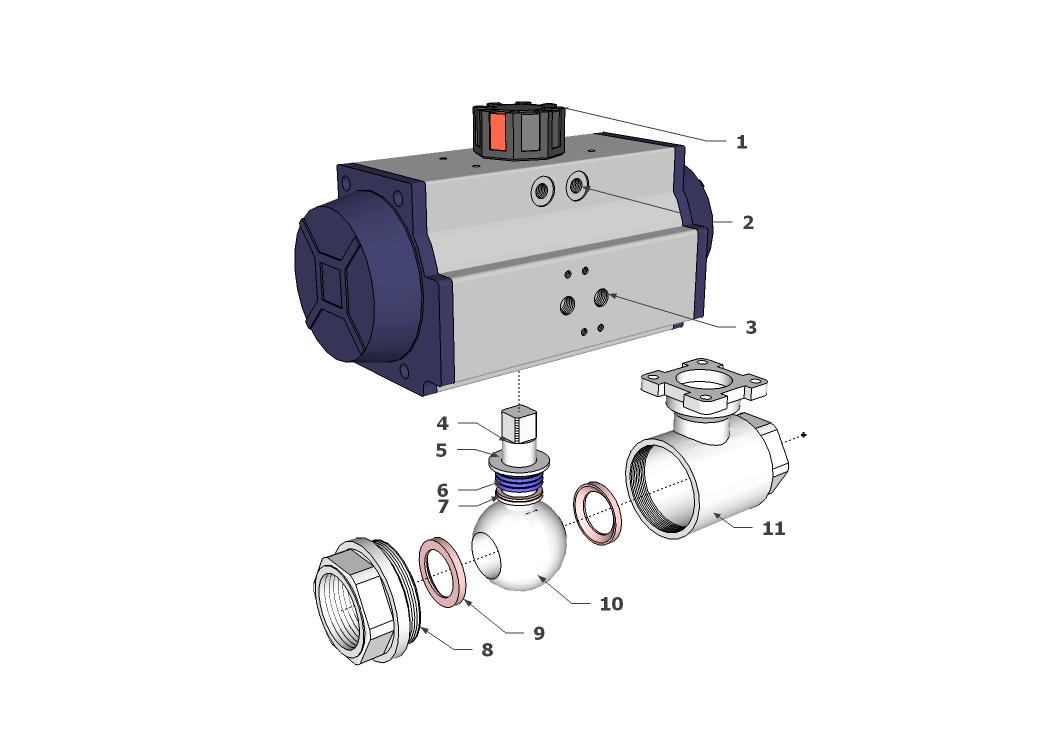 | Number | Part | Material |
| --- | --- | --- |
| 1 | Visual Indicator | UV Stabilized Thermoplastic |
| 2 | Stops | Stainless Steel |
| 3 | Inlet Ports/Namur Interface | Anodised Aluminium |
| 4 | Drive | 316 Stainless Steel |
| 5 | Chevron Seals | Delrin |
| 6 | Backing O-Ring | Viton |
| 7 | Thrust Washer | Delrin |
| 8 | End Piece | 316 Stainless Steel |
| 9 | Seat | Delrin |
| 10 | Ball | 316 Stainless Steel |
| 11 | Body | 316 Stainless Steel |
Size 1/4" to 2" BSP
Body 316 Stainless Steel
Seat Delrin
Pressure 200 BAR
Temperature Ambient
Actuation Spring Return Pneumatic
Product History