316 Stainless Steel High Temperature Normally Closed Solenoid Valve
SKU: SS75
A high flow / high pressure (up to 20 BAR) normally closed (power to open) piston type valve with a 316 Stainless Steel body and Teflon seats. Mainly used as a steam valve as it will do up to 180 degrees Celsius (steam at 10 BAR) with either a flying lead or DIN plug coil. Will handle fluids up to 50 centistoke viscosity. Typical Applications include high pressure irrigation, laundry equipment, hospitals, steam curing beds, boilers & general industry. Please note this is a hard PTFE seat so at low pressures/temperatures it may not give a bubble tight seal. Threads conform to ISO 7.1 Sealing Threads.
Please note this valve will only handle steam to 10 BAR.
*Voltages available; 12vDC, 24vDC, 24vAC, 110vAC, 240vAC, 415vAC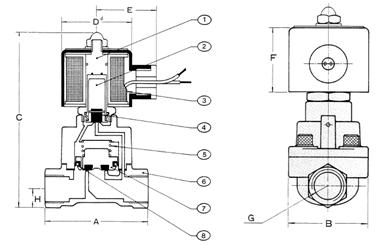 All dimensions in mm unless otherwise shown.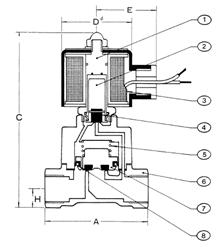 Size 3/8" to 2" BSP
Function Normally Closed (power to open)
Valve Operation Servo Assisted
Body 316 Stainless Steel
Seat PTFE
Pressure Range 0.5 to 10 BAR
Media Steam
Product History